Restaurant Guide
There are various restaurants around the venue to explore.
9IDMRCS-exclusive special coupon which allows the bearer to a discount or extra service from participating restaurants and shopping malls.
1. Show the ID pass and avail discount or extra service at AEON Mall Makuhari Shintoshin (Map "H")
■【For all participants】
https://makuharishintoshin-aeonmall.com/sale/lists/amuse_de_otoku_13
■【For people from overseas】
https://en.aeonmall.global/campain_kumamon1908/
2. Bring the flyer and avail discount or extra service at Mitsui Outlet Park (Map "D")
*The flyer will be provided in the congress bag.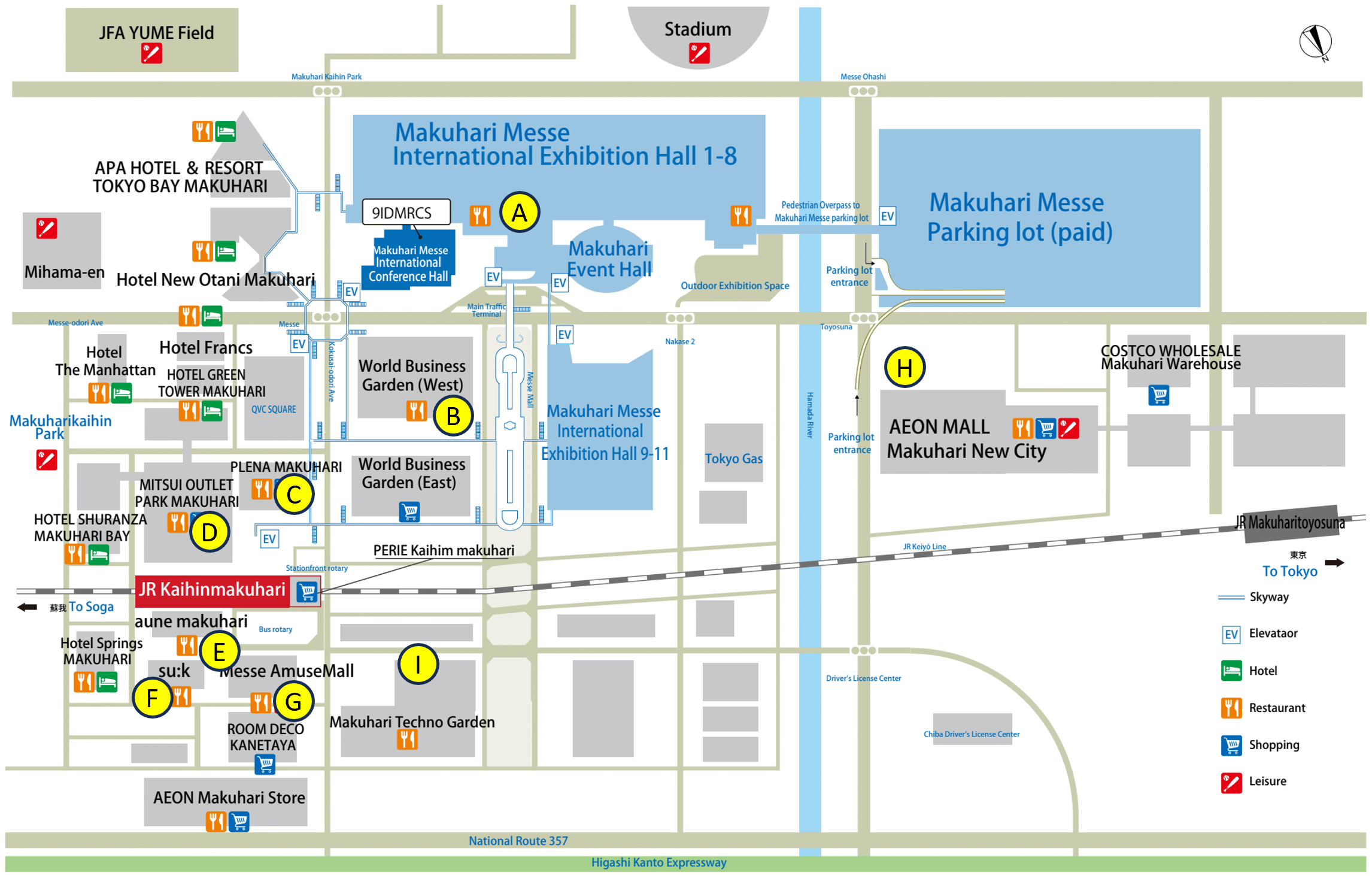 Nearby Restaurants
*Some restaurants may be closed for the holiday. Please check the restaurant's homepage.
1
WORLD KITCHENS!
Exhibition Hall 2F
Family restaurant
8/12 11:00-16:00
8/13 11:00-15:00


Closed on Aug14-18 

043-296-3011
2
Royal Garden Court
Exhibition Hall 2F
Family restaurant

Open only on Aug13 11:00-16:00

043-299-2285
3
New Yamazaki Daily Store Makuhari Messe
Central Entrance 2F
Convenience store

Open only on Aug12 8:00-19:00 and Aug13 8:00-19:30

043-276-8160
1
Tonkatsu KAPPOU Akasaka Yuukunn
2F
Tonkatsu
11:00-15:00/17:00-22:00


Closed on Aug14-16

043-306-6029
2
TAISHOKEN
3F
Chinese/Ethnic restaurant
11:30-15:00/17:00-22:00
043-304-6264
3
WBG Club lounge
West 35F
Lounge
11:00-22:00
043-297-3210
4
PRONTO
EAST 2F
Café
Weekdays 7:00-23:00
Weekends 11:00-18:00

043-297-8000
5
STARBUCKS COFFEE Makuhari WBG
EAST 1F
Café
Weekdays 7:00-22:00
Weekends 8:00-21:00
043-213-5801
6
Cafe CROISSANT
1F
Café
Weekdays 7:30-17:00


Closed on Aug 11-13 

043-297-0251
7
Tadokoro Shoten Tantanmen
2F
Ramen (Tantanmen)
11:00-19:00
043-296-1234
8
Mantra
3F
Indian
11:00-22:00
043-306-5885
9
LEMON GRASS
2F
Thai/Asian
11:00-22:00
043-307-4226
10
Misoya TADOKORO Shoten
2F
Ramen
Weekdays 11:00-21:00
Weekends 10:30-21:00
043-296-1257
11
Chegoya
2F
Korean
11:00-23:00
043-441-3411
12
TONY ROMA'S 
3F
BBQ
Monday to Saturday 11:30-15:15/17:30-22:00
Sunday 17:00-22:00
043-299-3781
13
Uodokoro CHOICHI
3F
Japanese
(Fish)
11:30-14:30/17:00-22:00


Closed on Aug 13-16

043-297-2778
14
Nagomian
2F
Japanese
(Yakitori)
11:30-15:00/17:00-23:00


Closed on Aug 11 and 14or 15

043-296-2203
15
Sojibo
2F
Soba noodle
Weekdays 11:00-15:00/17:00-21:30
Weekends11:00-21:00


Closed on Aug 14-17

043-297-0280
16
Mugimaru
1F
Udon noodle
11:00-20:00
043-350-0019
17
SEVEN ELEVEN
EAST 1F
Convenience store
7:00-23:00
043-297-2550
18
LAWSON
WEST 2F
Convenience store
Weekdays 7:00-22:00
Saturday 8:00-22:00
Sunday 8:00-20:00
043-297-0160
1
Aburino sachi
2F
Japanese
11:00-23:00
043-305-5288
2
Kamadoka
4F
Yakitori
11:00-23:00
043-351-9494
3
ST.MARC CAFE
1F
Café shop
7:00-22:00
043-272-0309
4
On-yasai
4F
Shabu-shabu
11:00-15:00/17:00-23:00
043-211-8829
5
Mahoroba
2F
Tonkatsu
11:00-23:00
043-299-7788
6
Hana no mai
1F
Seafood
11:00-23:00
043-310-0006
7
GYU KAKU
4F
Yakiniku
11:00-23:00
043-211-8629
8
Shoutaian
2F
Yakiniku
11:00-23:00
043-307-7729
9
Sakura suisan
4F
Seafood
11:00-14:00/16:00-23:00
043-211-8890
10
SAKURA
1F
Soba
11:00-22:00
043-304-5568
11
Mendokoro Naokyu
2F
Ramen  Gyoza
11:00-23:00
043-306-7095
12
Kamakura Pasta
1F
Pasta
11:00-22:00
043-350-1309
13
GEN-CHAN
2F
Seafood
11:00-23:00
043-441-4905
14
JANKU
4F
Chinese
11:00-23:00
043-310-0361
15
VANSAN
2F
Italian
11:00-23:00
043-306-6208
16
Toritetsu
4F
Yakitori
11:30-23:00
043-301-6622
17
MIDTREE
2F
Café shop
11:00-23:00
043-306-6580
18
Taishogun
4F
Yakiniku
11:00-23:00
043-299-6030
19
Makuhariina
1F
Hawaiian
11:00-23:00
043-299-0390
20
Saizeriya
4F
Italian
11:00-23:00
043-299-0403
21
Sharin
1F
Ramen
Weekdays 11:00-22:00
Weekends 10:00-22:00
043-296-0133
22
GUSTO
4F
Family restaurant
Weekdays 11:00-23:00
Weekends 10:30-23:00
043-213-6100
23
HANAMARU UDON
1F
Udon
10:00-22:00
043-213-5872
24
LOTTERIA
1F
Fast food
10:00-22:00
043-216-2881
25
YOSHINOYA
1F
Gyudon
7:30-22:00
043-213-8031
26
ARIGATO
1F
Okonomiyaki
11:00-22:00
043-299-0408
27
SHUN RON SHU KA
1F
Chinese
11:00-22:00
043-400-2238
28
Go! Go! CURRY
1F
Curry and rice
10:55-21:55
043-272-3055
29
Capricioza
1F
Italian
11:00-22:30
043-299-5568
30
IKINARI STEAK
1F
Beef steak
11:00-23:00
043-306-1529
31
CAFFE VELOCE
2F
Café 
7:30-22:00
043-299-0389
32
San cha ya
1F
Tapioca drink
11:00-21:00
043-274-5113
33
Yaro ramen
1F
Ramen
11:00-22:00
043-275-8800
34
Misaki
1F
Sushi
11:00-22:00
043-307-1021
35
Pancho
1F
Spaghetti
11:00-22:00
043-306-2010
36
SUTADONYA
1F
Rice bowls
Weekdays 11:00-22:00
Weekends 11:00-22:00
043-307-9986
37
Katsuya
1F
Tonkatsu
10:00-22:00
043-310-0180
38
MINI STOP
1F
Convenience store
24 hours
043-351-8731
1
MAISON KAYSER
A-SITE 1F A-101
Bakery
10:00-21:00
043-441-4375
2
gelato pique cafe
B-SITE 1F B-129
Café
 
043-307-4402
3
TULLY'S COFFEE
C-SITE 1F C-109b
Café
10:00-20:00
043-310-8760
4
Wine shop ENOTECA
D-SITE 1F D-111
Wine
 
043-213-2810
5
PIZZERIA 32
D-SITE 3F D-301
Pizza
11:00-21:30
Open until 22:00 on Fri and Sat
043-213-3251
6
Grill parlor Pinokio
D-SITE 3F D-302
Café
 
043-271-3033
7
The MeatLocker STEAK & CAFÉ
D-SITE 3F D-303
Beef steak
11:00-21:30
Open until 22:00 on Fri and Sat
043-306-2022
| | | | | | |
| --- | --- | --- | --- | --- | --- |
| 1 | Horumon yokocho MOTOBI | 5F | Yakiniku | 11:30-15:00/17:00-24:00 | 050-5450-4932 |
| 2 | BIG BOY | 2F | Hamburg steak | 11:30-15:00/17:00-24:00 | 043-298-2651 |
| 3 | Ishibi | 2F | Yakiniku | 11:30-15:00/17:00-24:00 | 043-297-0855 |
| 4 | Miraizaka | 2F | Izakaya | 17:00-3:00 | 050-5488-7450 |
| 5 | Masudaya | 1F | Ramen | 11:00-23:00 | 043-309-7975 |
| 6 | Akane | 3F | Izakaya | 16:00-23:30 | 050-5355-8276 |
| 7 | BOND | 3F | Meat Bar | 11:30-24:00 | 043-441-7592 |
| 8 | Sapporo Yasuke | 3F | Hokkaio | 11:30-15:00/16:00-23:00 | 050-1807-7360 |
| 9 | Akuan | 4F | Izakaya | 16:00-24:00 | 050-5355-4456 |
| 10 | Chuusuke | 4F | Izakaya | 16:30-23:45 | 043-273-0959 |
| 11 | Chintantan | 4F | Chinese | 11:00-15:00/17:00-23:00 | 043-299-1589 |
| 12 | Wanone | 2F | Izakaya | 16:00-23:00 | 03-4405-1472 |
| 13 | Chojyu kanshubo | 5F | Korean | 11:30-15:00/17:00-23:00 | 043-299-0551 |
| 14 | Cote d'ajure | 6F | Karaoke | 10:00-1:00(-5:00 weekend) | 043-299-2488 |
| 15 | Murohigashi | 1F | Japanese | 17:00-01:00 | 043-307-1221 |
| 16 | SEVEN ELEVEN | 1F | Convenience store | 24 hours | 043-273-7717 |
1
Torimero
1F
Yakitori
17:00-3:00(Open 16:00 weekends)
043-298-3631
2
Kitadaichi sakaba
1F
Izakaya
11:30~15:00/11:30~15:00
043-306-4291
3
To She
1F
Chinese
11:30~15:00/17:00~23:00
043-215-8368
4
Hakata gekijo
1F
Izakaya
16:00-24:00
043-307-8268
5
SMILE (Sumire)
1F
Yakitori
17:00~23:30
043-216-4603
6
Takeda
1F
Yakiniku
17:00~23:00 
043-306-9786
7
Kuukai
1F
Ramen
11:30-15:30/17:30-22:30
043-276-8797
8
GRAN VIA
1F
Spanish
11:30-15:00/17:00-23:00
043-350-3281
9
HUB
1F
British Pub
17:00-0:00
Open 16:00 on Weekends
Close 2:00 on Fri and Sat
043-213-5155
10
La Quartilyon
2F
French
12:00-14:00/17:00-21:00
(Closed on Monday and Thursday)
043-239-5214
11
Saizeriya
2F
Italian
10:00-23:00
043-298-2210
18
SEVEN ELEVEN
1F
Convenience store
24 hours
043-272-0263
1
Chakun Shorompo
1F
Dim sum
11:00-23:00
050-5456-7027
2
Yamato
1F
Sushi
11:30-14:30/17:00-22:00
Weekends 11:00-22:00
050-5594-8074
3
Yamadenmaru
1F
Seafood
11:30-14:30/17:00-22:00
050-5594-8079
4
Baskin Robbins
1F
Ice cream
10:00-21:00
043-272-7055
5
TULLY'S COFFEE
1F
Café
7:00-23:00
043-213-3131
6
Tenya
1F
Tempura
11:00-22:00
043-213-3571
7
OUTBACK STEAK HOUSE
1F
Australia
17:00-22:00
Open 11:30-15:00  Weekends
050-5869-1579
8
Ringer hut
1F
Champon noodle
10:00-23:30
043-299-2581
9
Hangsome
1F
Korean
11:00-22:30
043-307-9050
10
Kuidon
1F
Yakiniku
11:00-15:00/17:00-23:00
Open11:00-23:00 on Weekends
043-299-2929
12
REGALO
2F
Darts bar
17:00-5:00(Weekends open14:00-)
050-2018-8923
13
Family Mart
1F
Convenience store
24hours
043-213-3288
14
Kebab station & Tandor house
1F
Turkish/Indian
11:00-22:00
043-445-7493
15
BIG ECHO
2F
Karaoke
11:00-5:00(Weekends open 9:00-)
043-213-3521